Clifford the Big Red Dog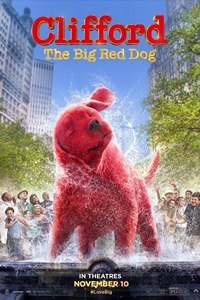 Clifford the Big Red Dog
Synopsis
When middle-schooler Emily Elizabeth meets a magical animal rescuer who gifts her a little, red puppy, she never anticipated waking up to find a giant ten-foot hound in her small New York City apartment.
50-Cent Movie! Tuesday, July 12 through Thursday, July 14. Starts at 10:00 am.
Details
Family, Animation
1h. 36min.
Opens Tuesday, July 12th

Director
Walt Becker
Cast
Jack Whitehall, Darby Camp, Tony Hale, Sienna Guillory, David Alan Grier
Advisory
Rated PG for impolite humor, thematic elements and mild action.
Showtimes
Filter:
2D
3D
IMAX
IMAX 3D
35mm
70mm
HFR
Virtual