Free Guy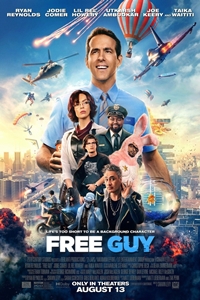 Free Guy
Synopsis
In Twentieth Century Studios' epic adventure-comedy "Free Guy," a bank teller who discovers he is actually a background player in an open-world video game, decides to become the hero of his own story... one he rewrites himself.
Details
Action/Adventure, Comedy
1h. 55min.
Opened Friday, August 13th

Director
Shawn Levy
Cast
Ryan Reynolds, Jodie Comer, Lil Rel Howery, Utkarsh Ambudkar, Joe Keery
Advisory
Rated PG-13 for strong fantasy violence throughout, language and crude/suggestive references.
Showtimes
Filter:
2D
3D
IMAX
IMAX 3D
35mm
70mm
HFR
Virtual