The Bad Guys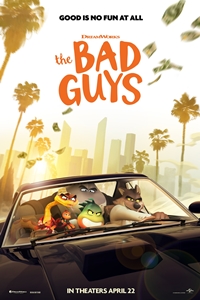 The Bad Guys
Synopsis
After a lifetime of pulling legendary heists, five notorious bad guys attempt their most challenging job yet - going good. Nobody has ever failed so hard at trying to be good as The Bad Guys.
Details
Animation
1h. 40min.
Opened Friday, April 22nd

Director
Pierre Perifel
Cast
Sam Rockwell, Awkwafina, Anthony Ramos, Marc Maron, Craig Robinson
Advisory
Rated PG for action and rude humor.
Showtimes
Filter:
2D
3D
IMAX
IMAX 3D
35mm
70mm
HFR
Virtual