The Lost City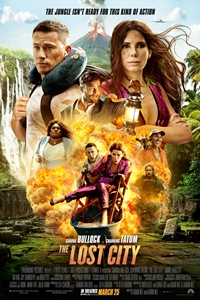 The Lost City
Synopsis
After being kidnapped by a villainous treasure hunter, a successful romance novelist is forced to team up with her cover model as they are swept into a cutthroat jungle adventure that proves stranger than fiction.
Details
Comedy, Action/Adventure, Romance
1h. 52min.
Opened Friday, March 25th

Director
Adam Nee, Aaron Nee
Cast
Sandra Bullock, Channing Tatum, Daniel Radcliffe, Da'Vine Joy Randolph, Oscar Nuñez
Advisory
Rated PG-13 for violence and some bloody images, suggestive material, partial nudity and language.
Showtimes
Filter:
2D
3D
IMAX
IMAX 3D
35mm
70mm
HFR
Virtual