The Black Phone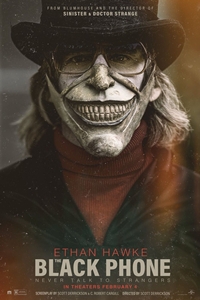 The Black Phone
Synopsis
A shy but clever 13-year-old boy, is abducted by a sadistic killer and trapped in a soundproof basement where screaming is of little use. When a disconnected phone on the wall begins to ring, he discovers that he can hear the voices of the killer's previous victims.
Details
Horror
1h. 42min.
Opened Friday, June 24th

Director
Scott Derrickson
Cast
Ethan Hawke, Mason Thames
Advisory
Rated R for violence, bloody images, language and some drug use.