The Fabelmans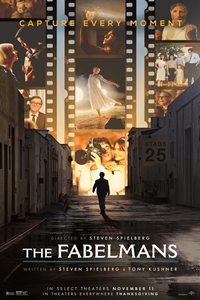 The Fabelmans
Synopsis
A deeply personal portrait of 20th Century American childhood, Steven Spielberg's The Fabelmans is a coming-of-age story about a young man's discovery of a shattering family secret and an exploration of the power of movies to help us see the truth about each other and ourselves.
Details
Drama
2h. 31min.
Opened Friday, January 27th

Director
Steven Spielberg
Cast
Michelle Williams, Paul Dano, Seth Rogen, Gabriel LaBelle, Jeannie Berlin
Advisory
Rated PG-13 for some strong language, thematic elements, brief violence and drug use.
Showtimes
Filter:
2D
3D
IMAX
IMAX 3D
35mm
70mm
HFR
Virtual