Firestarter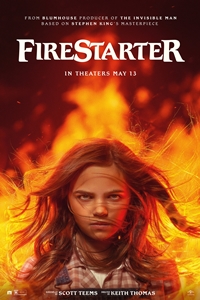 Firestarter
Synopsis
In a new adaptation of Stephen King's classic thriller from the producers of The Invisible Man, a girl with extraordinary pyrokinetic powers fights to protect her family and herself from sinister forces that seek to capture and control her.
Details
SciFi/Fantasy, Horror, Drama
1h. 34min.
Opened Friday, May 13th

Director
Keith Thomas
Cast
Zac Efron, Sydney Lemmon, Ryan Kiera Armstrong, Michael Greyeye, Kurtwood Smith
Advisory
Rated R for violent content.
Showtimes
Filter:
2D
3D
IMAX
IMAX 3D
35mm
70mm
HFR
Virtual