M3GAN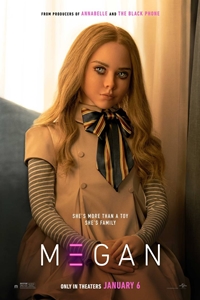 M3GAN
Synopsis
A toy company who uses artificial intelligence to develop M3GAN. After unexpectedly gaining custody of her orphaned niece, Gemma enlists the help of the M3GAN prototype - a decision that has unimaginable consequences.
Details
Horror, Suspense/Thriller
1h. 41min.
Opened Friday, January 6th

Director
Gerard Johnstone
Cast
Allison Williams, Jenna Davis, Amie Donald, Violet McGraw, Ronny Chieng
Advisory
Rated PG-13 for violent content and terror, some strong language and a suggestive reference.
Showtimes
Filter:
2D
3D
IMAX
IMAX 3D
35mm
70mm
HFR
Virtual