Missing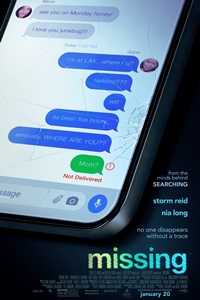 Missing
Synopsis
When her mother disappears while on vacation in Colombia with her new boyfriend, June's search for answers is hindered by international red tape... and when June unravels secrets about her mom, she discovers that she never really knew her at all.
Details
Drama, Suspense/Thriller
1h. 51min.
Opened Friday, January 20th

Director
Nicholas D. Johnson, Will Merrick
Cast
Storm Reid, Nia Long, Joaquim de Almeida, Ken Leung, Amy Landecker
Advisory
Rated PG-13 for some strong violence, language, teen drinking, and thematic material.
Showtimes
Filter:
2D
3D
IMAX
IMAX 3D
35mm
70mm
HFR
Virtual