Pearl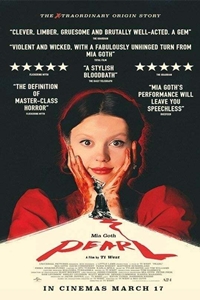 Pearl
Synopsis
Trapped on her family's isolated farm, Pearl must tend to her ailing father under the bitter and overbearing watch of her devout mother. Lusting for a glamorous life like she's seen in the movies, Pearl's ambitions, temptations, and repressions all collide.
Details
Horror
1h. 42min.
Opened Friday, September 16th

Director
Ti West
Cast
Mia Goth, David Corenswet, Tandi Wright, Matthew Sunderland, Emma Jenkins-Purro
Advisory
Rated R for some strong violence, gore, strong sexual content and graphic nudity.
Showtimes
Filter:
2D
3D
IMAX
IMAX 3D
35mm
70mm
HFR
Virtual