A Haunting in Venice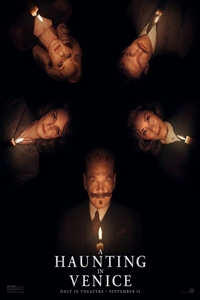 A Haunting in Venice
Synopsis
"A Haunting in Venice" is set in eerie, post-World War II Venice on All Hallows' Eve and is a terrifying mystery featuring the return of the celebrated sleuth, Hercule Poirot.
Details
Drama
1h. 43min.
Opened Friday, September 15th

Director
Kenneth Branagh
Cast
Kelly Reilly, Kenneth Branagh, Michelle Yeoh, Jamie Dornan, Emma Laird
Advisory
Rated PG-13 for some strong violence disturbing images and thematic elements.
Showtimes
Filter:
2D
3D
IMAX
IMAX 3D
35mm
70mm
HFR
Virtual