The Kill Room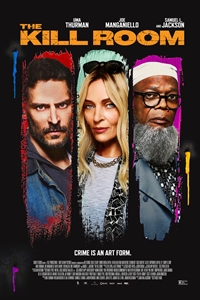 The Kill Room
Synopsis
The Kill Room is a dark comedy / crime-thriller about a hitman, his boss, an art dealer, and their money laundering scheme that accidentally turns the hitman into an overnight, avant garde sensation, forcing the dealer to play the art world against the underworld.
Details
Suspense/Thriller
1h. 38min.
Opened Thursday, September 28th

Director
Nicol Paone
Cast
Uma Thurman, Joe Manganiello, Samuel L. Jackson, Debi Mazar, Maya Hawke
Advisory
Rated R for pervasive language, violence, and drug use.
Showtimes
Filter:
2D
3D
IMAX
IMAX 3D
35mm
70mm
HFR
Virtual