Wish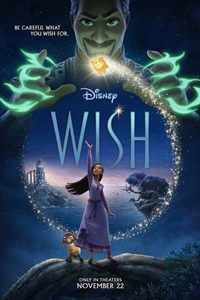 Wish
Synopsis
In "Wish," Asha, a sharp-witted idealist, makes a wish so powerful that it is answered by a cosmic force - a little ball of boundless energy called Star. Together, Asha and Star confront a most formidable foe to save her community.
Details
Animation, Action/Adventure, Family
1h. 35min.
Opened Wednesday, November 22nd

Director
Chris Buck, Fawn Veerasunthorn
Cast
Ariana DeBose, Chris Pine, Alan Tudyk, Evan Peters, Harvey Guillén
Advisory
Rated PG for thematic elements and mild action.
Showtimes
Filter:
2D
3D
IMAX
IMAX 3D
35mm
70mm
HFR
Virtual